What are Exchange Standards?

As Google says, a Standard is a level of quality. Exchange Standards are no different. They are a set of minimums that measure the level of quality of our products.
As you can see below, the exchange standards are divided through the customer flow stages. Very important to notice that there are HOME and HOST Standards, which mean that these standards are supposed to be delivered by Home and Host entities: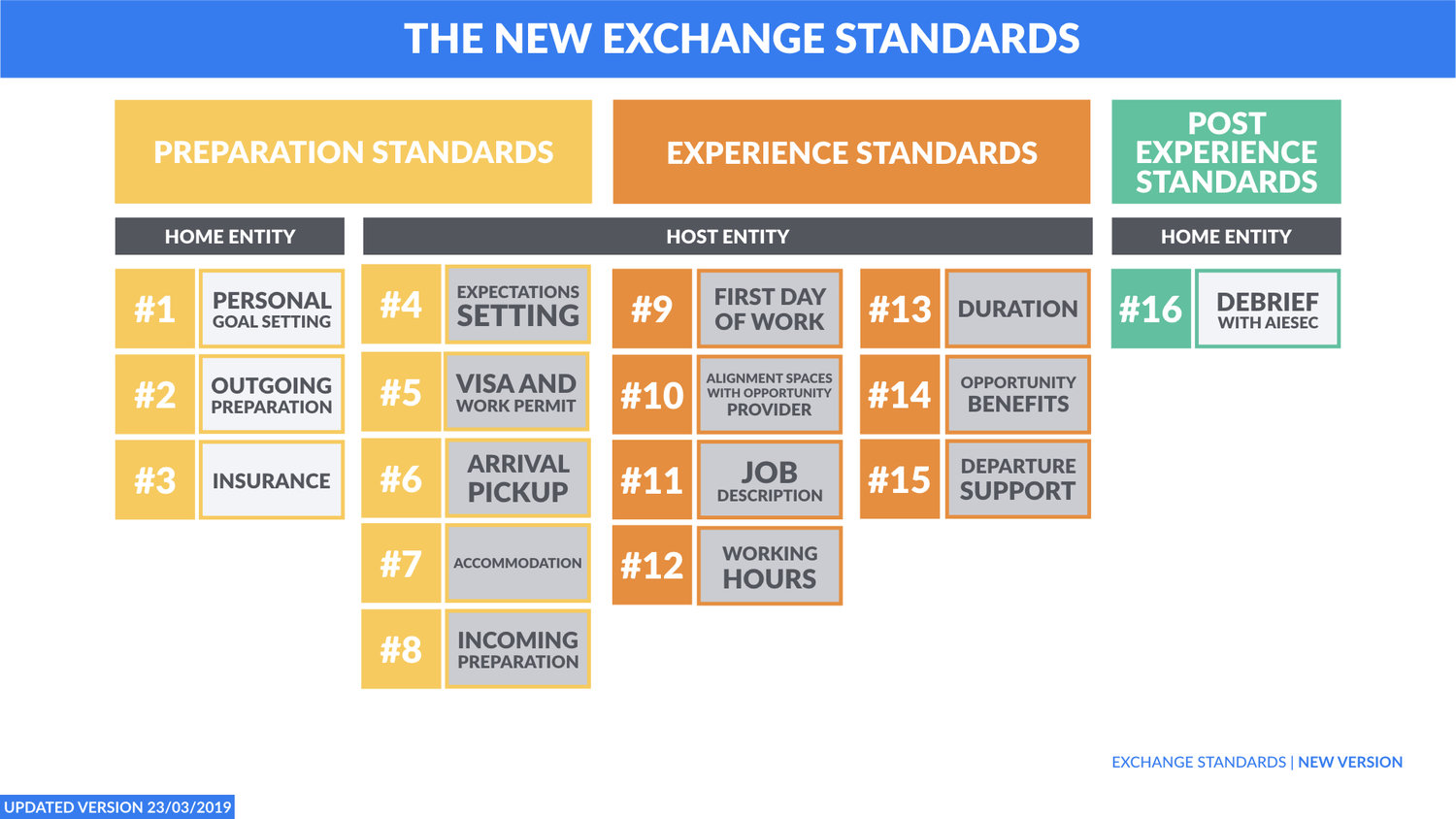 Moreover, our measure of success in AIESEC is Completed, which is the result of an experience that had already finished and had the fulfillment of at least 14 out of the total 16 of the Exchange standards.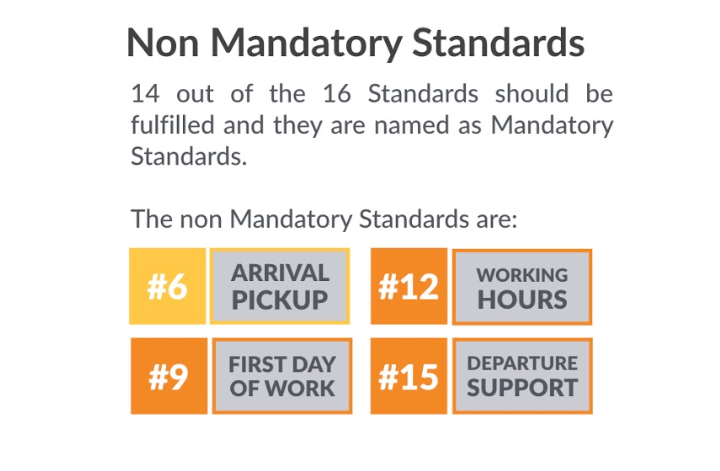 You can check a deeper explanation in the video and booklet below.
NEW EXCHANGE STANDARDS WITH CHANGES
How can I know if my entity has delivered the standards for a specific opportunity or application?
You can directly check in the Opportunity or on the application page to see whether the standards were delivered or not.
Application page Example

Opportunity Page Example
You can see in the opportunity page all applications' standards that were delivered, which is really useful to be used during area meetings and for tracking operations in a more micro-level: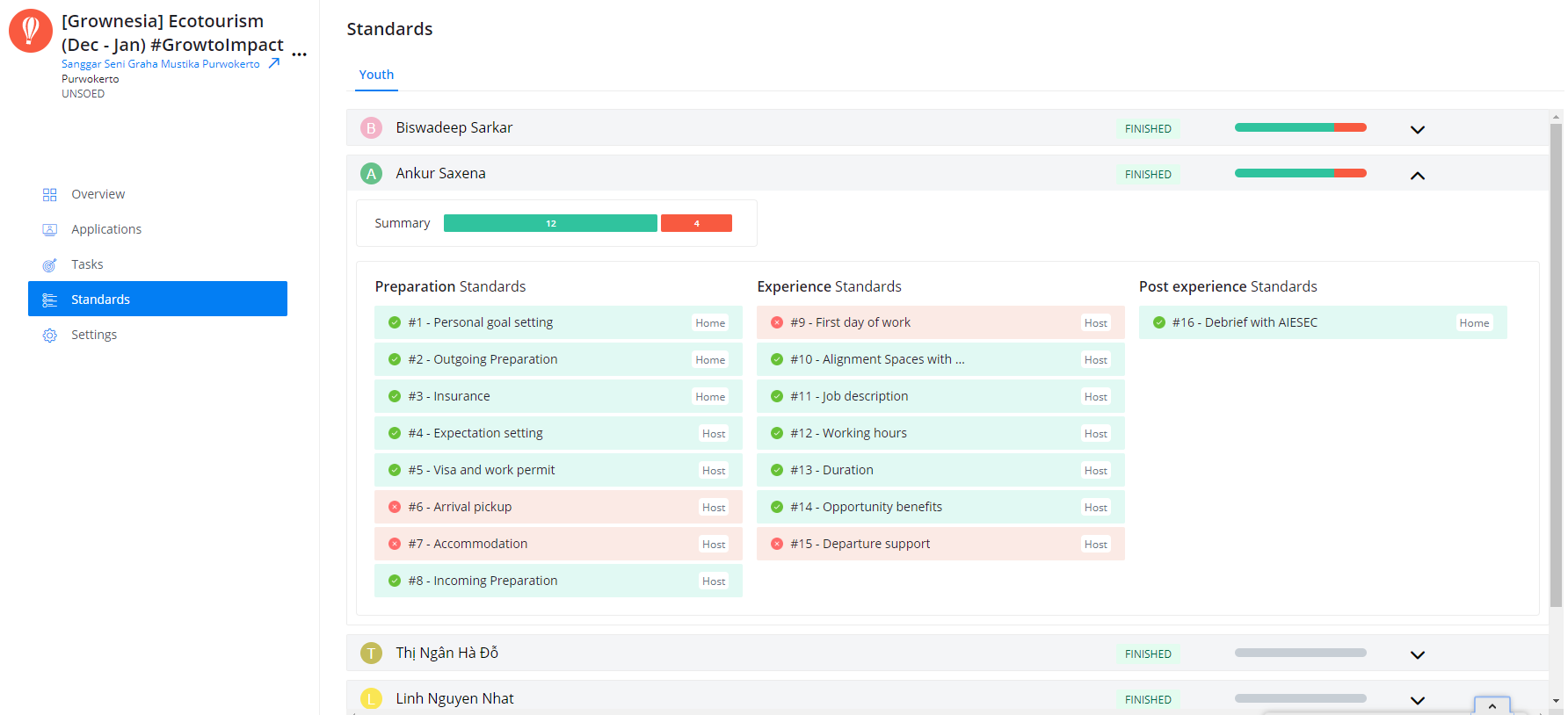 And how can I analyze all of these?
All of the standards data can be analyzed using 2 brand new analytical tools:
Entity Standards Analytics
E2E Standards Analytics
What is the difference between Entity and E2E Standards Analytics?
The Entity Standards Analytics provides you with the ability to understand what are the % of Standards delivered and the % of respondents from the total number of finished experiences you had in a specific time frame for your entity's operation, in total and per standard.
Be aware that if you select to analyze an ICX Operation, you will see only the Host Standards, because you are analyzing your entity as the host. The same happens for OGX. If you choose to analyze OGX, you will only see the Home Standards.
The E2E Standards Analytics provides you the ability to analyze how your entity partners are delivering standards to your EPs. You will also be able to check the % of standards delivered and the % of respondents, in total and per standards.
Also, you have the ability t analyze OGX and ICX separately. It is all really simple: If you choose an ICX product, you will generate an analysis for your LC, hence seeing the Home Standards that got delivered to your EPs by your partners. For your OGX Product, you will be able to see the Host Standards delivered by your partner.
Let's understand how Entity Standards Analytics Works!
It is really easy for you to know more details on the standards that your entity is delivering to your EPs. By inputting the right filters, choosing your entity, the product you would like to see, and a finished time range you are ready to go. After putting the basic filters, you will also have the option to select specific standards to only view the data about them.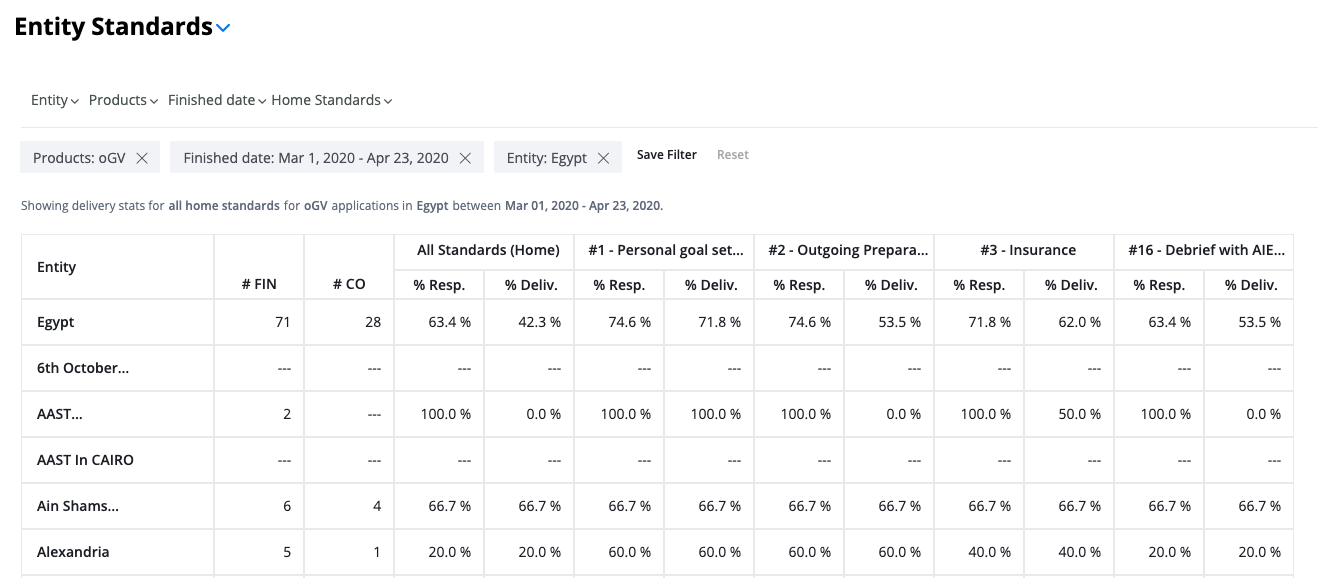 Let's understand how E2E Standards Analytics Works!
The same goes for the E2E Standards Analytics. By selecting your entity, product, a finished time range, and another entity that you have realizes with, you will be able to see the deliverable rates of standards from this entity towards your EPs.

Important note: If you don't select an entity on the Realized With Filter, you will be seeing the delivery stats from all entities that do exchange with your entity.