What is a funnel?
A funnel is the set of steps a visitor needs to go through before they can convert into a customer. The top of the funnel is where everyone goes in. Only the most interested buyers will move further down your funnel.
Why are Funnels beneficial?
With a funnel report, you can see where you are losing customers and where your processes are not being effective, since you are losing customers from one stage to another.
Funnels occur everyday with consumers. Let's take a look at an example of an e-commerce store: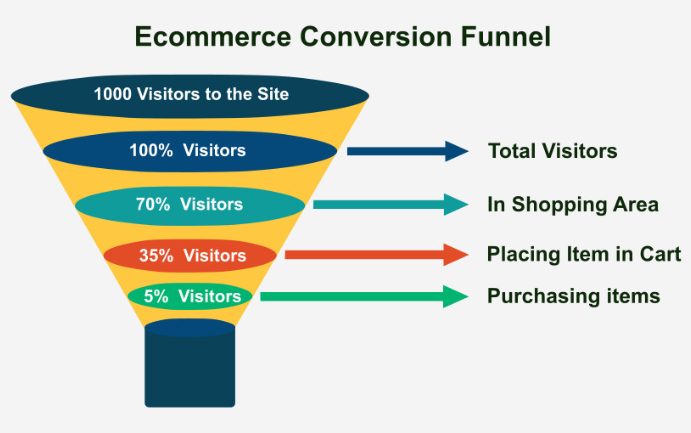 Looking at 100% of the store visitors, we can see that only 5% of them become customers.
How are funnels in AIESEC?
Normally in AIESEC, we look at a funnel in a completely different way. We don't look at how 100% of consumers performed along the funnel. We don't look at how our sign-ups moved across the funnel until this person has completed an experience. We actually look at the results we had in a certain period of time and calculate conversions out of it.
So, is it realistic to say that if an entity had 100 sign-ups in the month of February and had 50 applicants, that the conversion Sign Up → Apply is equal to 50%? The answer is NO!
We need to shift our mindset to understand how our customers are moving across our youth funnel. If an entity has 100 sign-ups in the month of February, we need to understand how many of these sets of people actually applied to an opportunity, not how many applicants we had overall in a month.
That is why we created FUNNEL ANALYTICS! This feature looks only into how our sign-ups, for OGX, and applications, for ICX, are moving until they reach the completed stage.
Let's understand our Customer Funnel!
By accessing https://expa.aiesec.org/analytics/funnel and setting up the filters, you will be able to check, in a specific date range, how your funnel is performing in terms of:
Absolute numbers

Conversion Stats

Process Time data
Important disclaimer #1: When you select a time period, you are selecting the time range only for the people who signed up from a specific entity.
Important disclaimer #2: For OGX, the funnel starts in the sign-up phase. For ICX, the funnel starts in the Applied phase, since there is no sign-up process for ICX.
Example for ICX: AIESEC in Turkey had 5960 applications for IGV between August 01, 2019, and March 25, 2020. From these 5960, 2132 became approved (purchased the product) and only 266 lived a volunteering Turkish experience. On average, it takes 64 days for a person to travel from the moment he/she purchased an exchange.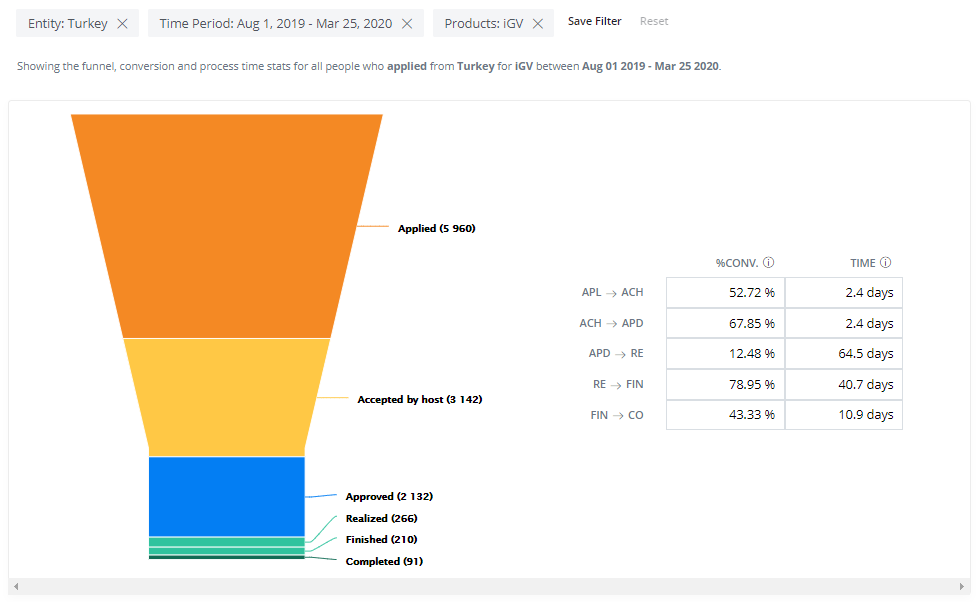 Example for OGX: AIESEC in Mumbai, India, had 4039 sign ups interested in GE between February 01, 2019, and January 31, 2020. From these 4039, 26 purchased an exchange, and 20 became realized. All of them already finished their experiences, and 16 became completed.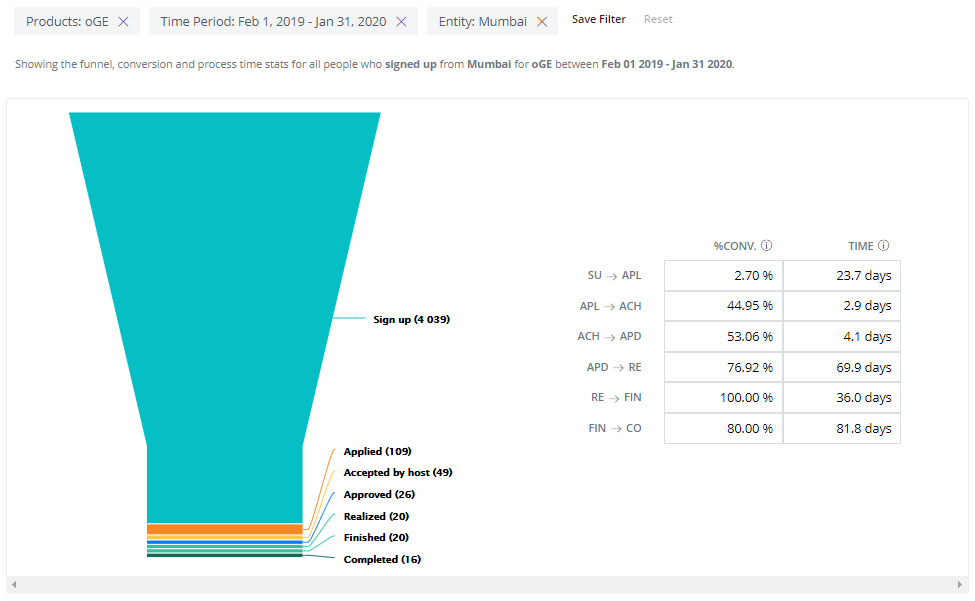 FAQ
1. The data from Performance Analytics is different from the data displayed in the Funnel Analytics. Why?
Performance analytics shows the results a certain entity had in a specific period of time, based on the actions performed. Funnel analytics shows only how many people that signed up (OGX) / applied (ICX) in a specific period of time are moving across the exchange funnel.