You can fasten your CRM task by loading saved filter options. It can be used in the CRM of Applications, Committees, People, Organizations, or Opportunities.
In this article, we will try creating and loading the saved filter on the "Opportunities" page.
How to save a new filter
Step 1 - Go to your Opportunities Page
First, you need to go to the Opportunities page using the "Opportunities" button which is the third option of the left side panel.
Step 2 - Setting a filter
Click on the type of filter as you want to use and choose the correct value in the drop-down menu.
For example: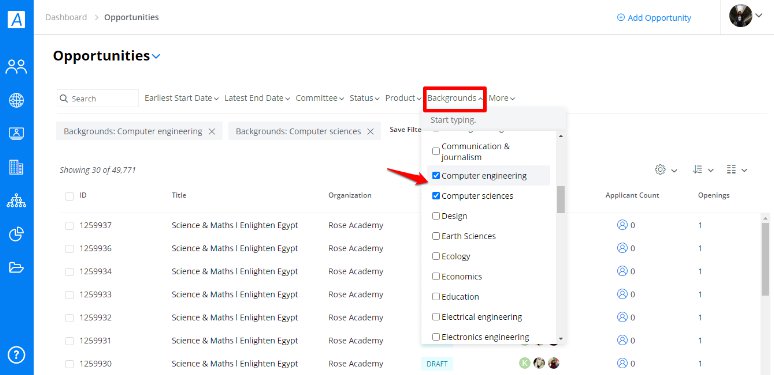 Step 3 - Saving a filter
After choosing the desired filter, press "Save filter" for future use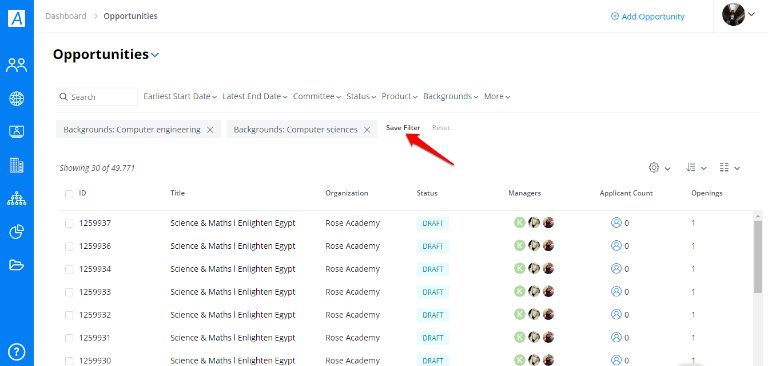 Step 4 - Setting a filter name and save it
You will see a modal window where you will enter your filter name, and click on the Save button.
Note: You should type in a name that will help you remember quickly next time.
For example: IT opportunities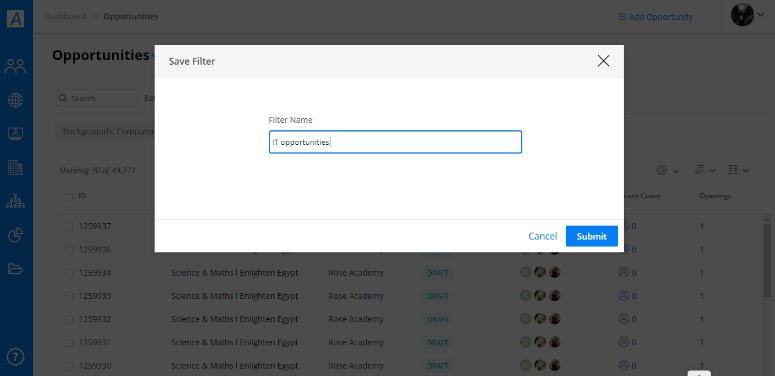 How to use a saved filter
You can gain access to the saved filters by clicking on the Opportunities title or the nearby drop-down.

You can left-click on the name of the saved filter you want to use.
In this example, click on "IT opportunities"

Done! The table will refresh instantly and only display results that have the required filter requirement(s).
How to delete a saved filter
Step 1- Access the Opportunities page
Step 2 - View the saved filter by clicking on the dropdown icon or the title "Opportunities"

Step 3 - Click on the "X" button next to the saved filter you want to delete.